Quick Sukiyaki Recipe
February 15 2019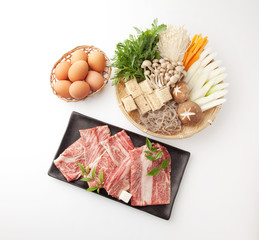 This recipe feeds 3~4pax or 2 very hungry people:
Wagyu Shabu/Sukiyaki Slices OR Pork Shabu/Sukiyaki Slices (300~400G)
Naganegi Leek, 1~2 pieces
Shiitake Mushrooms or Enoki, 1~2 pieces (optional)
Carrots in thin pieces, 5~6 pieces (optional)
Shirataki, 1 packet
Yaki Tofu, 1 block
Sukiyaki Sauce, 300ML
Oil or beef fat
Kombu Dashi:
2 pieces Cut Kombu boiled in 500ML Water. Set aside for use with Sukiyaki.

1. Heat pan with oil/beef fat
2. Add Naganegi
3. Add meat with a bit of sauce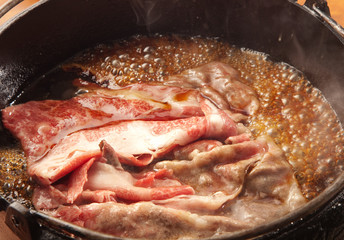 4. Push meat aside and add other ingredients.
5. Add remaining sauce into the pot, adjust with kombu dashi (Note: you're not supposed to cover the meat or Shirataki in sauce, so please add sparingly. Adjust with Kombu Dashi if it is too salty.)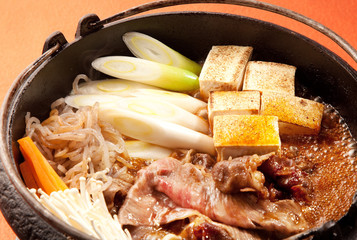 6. Serve with some Mizuna or as is.